0% FINANCE AVAILABLEON ORDERS OVER £400
FREE STANDARD DELIVERYON ORDERS OVER £400
UK NEXT DAY DELIVERYWHEN ORDERED BY 12PM
Skin Peel & Homecare
Product Range By Epiderma5
Professional Skin Peels
epiderma5 is an established and popular British skincare company specialising in skin healthy skin peels and homecare products.
Skin Health Solutions are exclusive distributors for this scientifically developed brand, meeting the needs of aesthetic practitioners and their clients.
Products In The Skin Peel Range
Products in the skin peel product range
The range leads with a 40% glycolic skin peel. Developed to provide adequate exfoliation without causing damage to the stratum corneum, no actual peeling can be observed by the naked eye. This is a buffered peel with a pH of 3.1
The entire range is perfectly balanced with actives, botanicals and essential oils, offering optimal results and promoting skin health.
Professional products all require training for use.
Professional Skin Peel Range
Although epiderma5 has homecare products within the range, the AHA40 and AHA70 peels are professional skin peel products and restricted to those who have the relevant qualifications.
The 40% glycolic peel is only available to those who are level 3 beauty qualified or medics and have a skin peel qualification.
Glycolic Acid is excellent in the management of:
Acne and post-inflammatory hyperpigmentation
Pigmentation – sun & age spots, hormonal influencers
Anti-ageing – reducing the appearance of fine lines and wrinkles
Regulating oily skin by reducing the amount of sebum secreted
Improving dry skin through exfoliation and improving skin texture
Green and clean
epiderma5 prides itself on its "green and clean" credentials. It crosses Cosmeceutical with Natraceutical and is a contemporary, forward thinking range.
Furthermore, all products free from fragrance, reducing the risk of sensitivity.
No parabens or harmful, sensitising preservatives are used. No SLS or SLES or mineral oils.
Please note, no animal testing is carried out on finished products, including all skin peels.
Above all, all products comply with the current EU Regulatory framework.
Skin peel product recommendations
SPF is mandatory following all chemical skin peels as this treatment can make the skin more sensitive to UV light.
Avoiding strong sunlight is also very important and absolutely no sunbeds. epiderma5 recommend using Daily Moisture Defence with an SPF value of 45, this is lightweight, oil free and makes an excellent every day moisturiser. The SPF value in the Daily Moisture Defence is held in a liposome with the intention of NOT penetrating the skin but sitting on the skin surface to prevent UV rays from causing damage.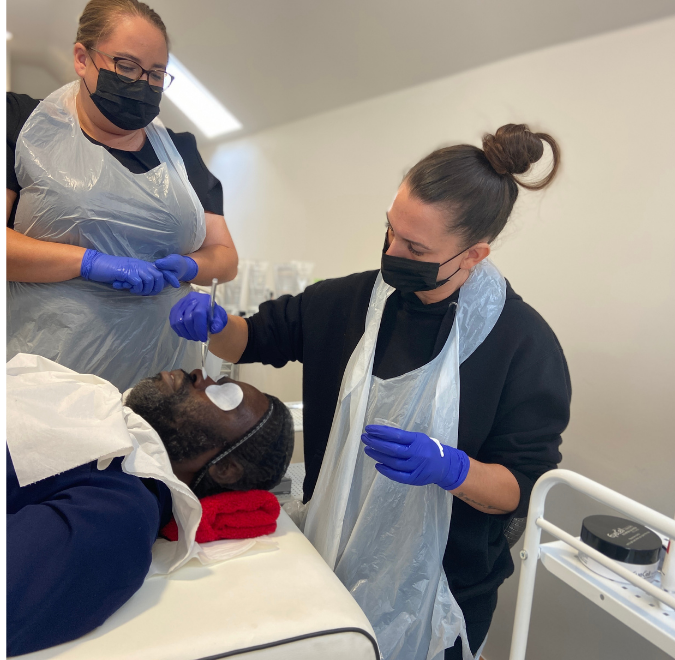 Training with the epiderma5 skin peel range
Training with this skin peel range is exclusively provided by emmacoatesaesthetictraining.co.uk
Chemical skin peels make the ideal addition to the practitioners  treatment portfolio.
Higher concentration glycolic skin peels require training to be used safely.
Emma Coates Aesthetic Training accept only the following qualifications for the skin peel course.
– NVQ Level 3 in beauty therapy
– Nurse, dentist, doctor, pharmacist
Why use this skin peel product range?
These skin peels present as "no downtime" "no peeling" skin therapies.
This is a simple, safe, effective and speedy treatment taking no more than 15 minutes as a standalone or can be combined with mesotherapy or bespoke facial excluding the use of steam or heat.
Glycolic acid is the smallest molecule of all the AHA's, this makes penetration into the upper epidermis rapid and shortening treatment duration. It is a versatile acid enabling the treatment of many skin conditions.
Ingredients
epiderma 5 select every ingredient carefully based on available evidence to prove efficacy and mitigate irritation.
The dedicated team of British Cosmetic Chemists have created unique formulations utilising some truly unique ingredients ensuring delivery occurs at a cellular level.
The epiderma5 philosophy is simple "Conscious Skincare"
Shop Now