0% FINANCE AVAILABLEON ORDERS OVER £400
FREE STANDARD DELIVERYON ORDERS OVER £400
UK NEXT DAY DELIVERYWHEN ORDERED BY 12PM
Precision Microneedling Solutions
Welcome to the product information page for the Needle Pen-K microneedling device by the leading skin care brand, Genosys. Furthermore, Skin Health Solutions proudly deliver this amazing device to the best skin clinics and qualified therapists in the UK. With our partnership, you can access this cutting-edge technology to enhance your skincare services and provide the best for your clients.
Celebrated as a global leader, Genosys, a South Korean brand, pioneers advancements in aesthetic skincare. Leveraging South Korea's esteemed reputation in the field, this cutting-edge microneedling technology empowers your aesthetic business to stand out from the competition
Needle Pen-K treats a range of cosmetic skin concerns, including pigmentation, scarring, oily and spot-prone skin, as well as providing general anti-aging improvements. The range of 5 different Power Solution Vials take this treatment to another level and optimise your treatment outcomes.
Skin Health Solutions have packaged a business start up kit : https://www.skinhealthsolutions.co.uk/product/dermafix-starter-kit/ Everything you will need to launch microneedling treatments to your customers.
What is the Genosys Needle Pen-K?
GENOSYS NEEDLE PEN-K is an automatic device for microneedling therapy.
It increases the absorption rate of active ingredients of skin care products by creating physical pathways through skin. And it promotes collagen and elastin induction through natural wound healing process of skin.
It uses 16 sterile needles to create microchannels in the surface of the skin which allows powerful skin rejuvenation products to penetrate the skin further while also stimulating the production of collagen.
The Needle Pen-K  can create over half a million microchannels during a 5-10 minute treatment, penetrating deeper through the epidermis.
This encourages the absorption of active ingredients making it far easier for them to pass through the upper layer to cells deeper in the skin than a simple surface application with no needling would.
Genosys Power Solutions
GENOSYS POWER SOLUTION is formulated with specially chosen ingredients for GENOSYS microneedling treatment. GENOSYS POWER SOLUTION pursues skin-friendly formulation not containing harmful additives considering the fact the ingredients can be penetrated deep into skin through microneedling. For this reason, it does not include paraben, etha- nol, artificial fragrance, artificial pigment and artificial surfactant that can irritate skin.
Best Treatment Effect by High Performing Ingredients
Sh-Polypeptide-7: is a recombinant protein which has the same structure and function as human growth hormone which is the key hormone in body to stimulate tissue repair and encourage growth, cell production and regeneration. It is produced through microbial fermentation.
Multi Peptides: Peptides have a cell-communicating ability to help skin repair itself and stimulate the synthesis of collagen.
Botanical Stem Cell Extracts: Botanical stem cell extracts have anti-virus, anti-allergy and anti-oxidant effects. They help cure the skin inflammation and itching.
Benefits of Genosys Needle Pen-K Microneedling Pen
Promotes skin's natural wound healing
Induces collagen and elastic production
Brightens and lightens skin
Improves fine lines and wrinkles
Firms and lifts skin
Improves scarring
Contracts pores
Treats hair loss (alopecia)
Improves stretch marks
How to train in microneedling
To be able to safely treat a client with microneedling you need to be fully qualified with an accredited training company. Without this training, you cannot get insured to administer the treatment. Skin Health Solutions will require a nationally recognised Level 3 in beauty therapy or an equivalent to be able to purchase this device. Medical practitioners such as doctors, nurses, dentists are also able to purchase. We will also need to see your microneedling certificate.
Skin Health Solutions are partnered with https://emmacoatesaesthetictraining.co.uk who deliver a professional and high quality training that has obtained 100% five star Google and Facebook ratings. If you're interested in more information then visit their microneedling training information page here or the button below.
Emma Coates Aesthetic Training use the full Genosys range and equipment.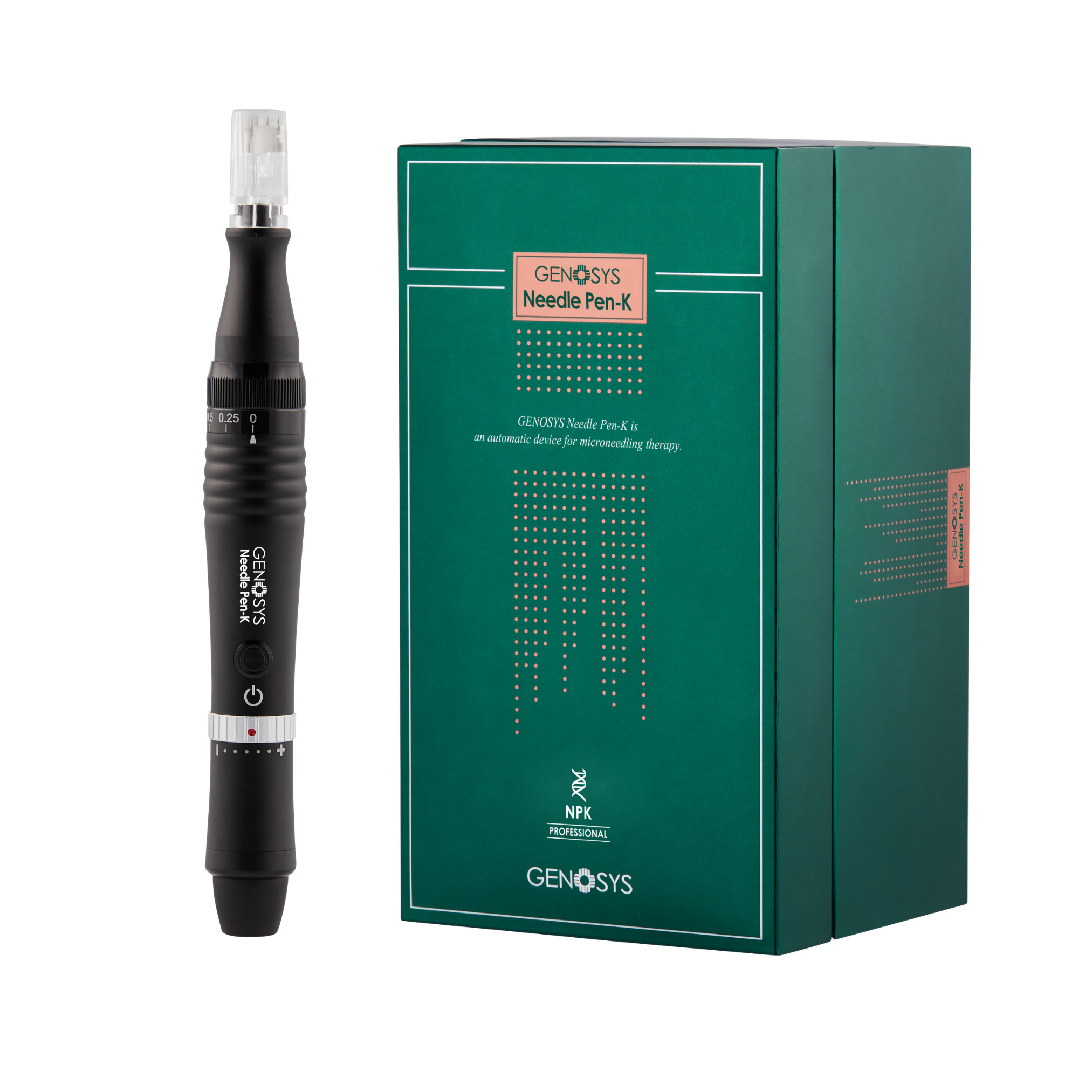 Why the Needle Pen-K automated pen?
Needle Pen-K offers many benefits compared to a manual dermaroller.
– Increased effectiveness
– Less epidermal damage
– Minimised pain and discomfort
– More even absorption of topicals such as PRP, hyaluronic acid and peptides
MAIN FEATURES
1. Disk type needle: Each metal disk has four needles. And four disks compose one needle cartridge. When pricking the skin with the disk needles, the needles do not cause severe damage to the skin and can be prevented from being broken.
2. Number of needle-16: The number of needles is 16, thus making more micro channels when compared to other microneedling devices whose needle cartridges have 12 needles in general.
3. Thickness of needle- 0.20mm: The pricking sensation is minimised.
4. Shape of needle – hexagon: The cross-section of each needle is configured to form a polygonal cross-section of at least six sides instead of a circular cross section, so that, when pricking the skin with the needles, the contact surface of each needle relative to the skin can be reduced, thus minimising the pain.
5. Sterilised needles: Hygiene, safety
6. Adjustable motor power: 7 levels
7. Adjustable needle length (0.25mm~2.00mm): According to the purpose of treatment, needle length can be adjusted, which allows for more effective and affordable treatment for a patient with a multitude of skin conditions requiring different length of needles.→ cost-effective
8. Rubber spring of needle cartridge: It prevents fluids from flowing into the device during the treatment.