0% FINANCE AVAILABLEON ORDERS OVER £400
FREE STANDARD DELIVERYON ORDERS OVER £400
UK NEXT DAY DELIVERYWHEN ORDERED BY 12PM
Needle Pen-K Microneedling Pen
Welcome to the product information page for the Dermafix microneedling pen by leading skin care brand, Genosys. Skin health solutions are proud to deliver this amazing device to the best skin clinics and therapists in the UK.
Genosys is a world leading South Korean brand. South Korea is very highly regarded for it's advances in aesthetic skin care which is why this cutting edge microneedling technology can set you apart from the crowd in your aesthetic business.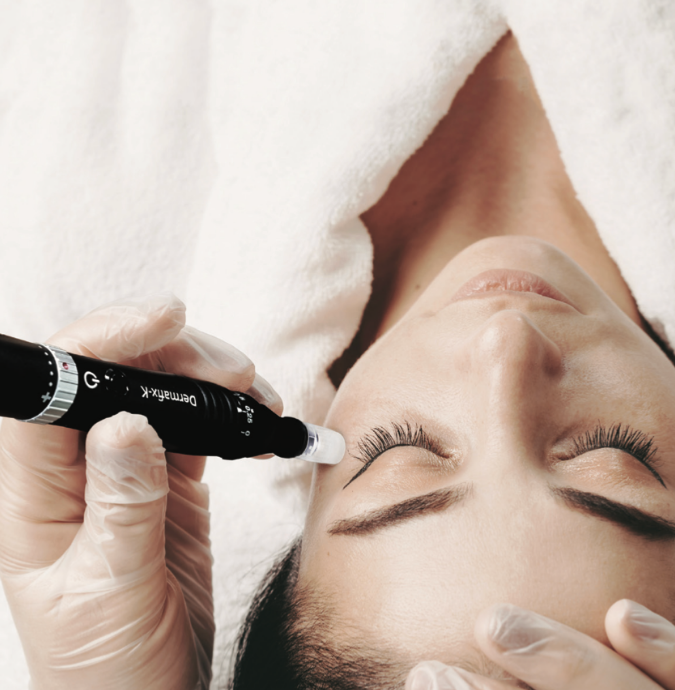 What is the Genosys Needle Pen-K?
GENOSYS NEEDLE PEN-K is an automatic device for microneedling therapy.
It increases the absorption rate of active ingredients of skin care products by creating physical pathways through skin. And it promotes collagen and elastin induction through natural wound healing process of skin.
It uses 16 sterile needles to create microchannels in the surface of the skin which allows powerful skin rejuvenation products to penetrate the skin further while also stimulating the production of collagen.
The Needle Pen-K  can create over half a million microchannels during a 5-10 minute treatment, penetrating deeper through the epidermis.
This encourages the absorption of active ingredients making it far easier for them to pass through the upper layer to cells deeper in the skin than a simple surface application with no needling would.
Benefits of Genosys Needle Pen-K Microneedling Pen
Promotes skin's natural wound healing force
Induces collagen and elastic production
Improves acne scarring
Brightens and lightens skin
Improves fine lines and wrinkles
Firms and lifts skin
Improves scarring
Contracts pores
Treats hair loss (alopecia)
Improves stretch marks
How to train in Microneedling
To be able to safely treat a client with microneedling you need to be fully qualified with an accredited training company. Without this training, you cannot get insured to administer the treatment. Most training companies will require a level 3 in beauty therapy or an equivalent to be able to train. This minimum requirements also covers doctors, nurses, dentists etc.
Skin Health Solutions are partnered with Emma Coates Aesthetic training who deliver a professional and high quality training that has obtained 100% five star Google and Facebook ratings. If you're interested in more information then visit their microneedling training information page here or the button below.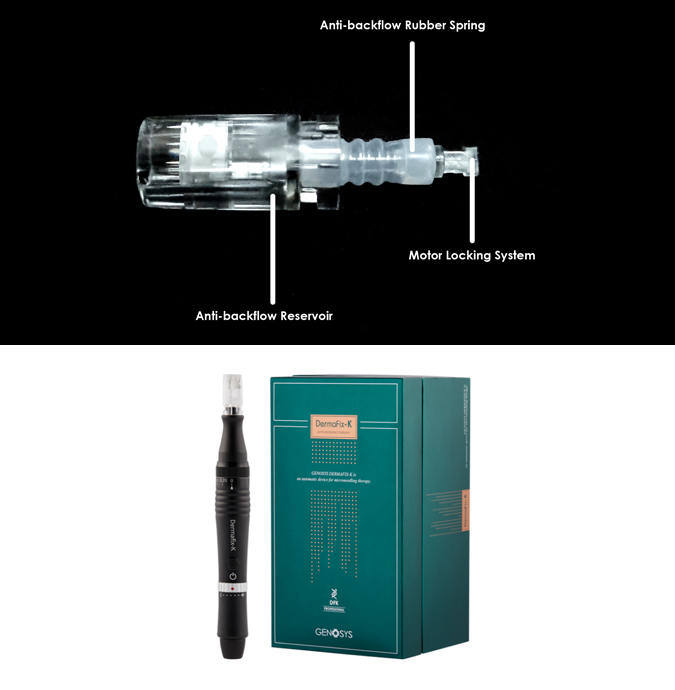 Why the Needle Pen-K automated pen?
Dermafix offers many benefits compared to a manual dermaroller. Including
– Increased effectiveness
– Less Epidermal Damage
– Minimised pain and discomfort
– More even absorption of topicals such as PRP, Hyaluronic acid and peptides
– Verticle needling creates less damage as it does not bend or break the skin resulting in less bleeding, pain and therefore quicker recovery times.
A topical anaesthetic is not necessary as the procedure is relatively comfortable.
Treatment time is thus reduced and cost of anaesthetic is negated.