0% FINANCE AVAILABLEON ORDERS OVER £400
FREE STANDARD DELIVERYON ORDERS OVER £400
UK NEXT DAY DELIVERYWHEN ORDERED BY 12PM
Professional Diamond Microdermabrasion Machine
The M3 diamond microdermabrasion machine is incredibly easy to use and proven to get phenomenal results for your clients. The machine has 11 different head sizes that can be used on both the body and the face increasing the variety of microdermabrasion treatments you can offer to your clients. This machine comes with a completely free training.
Why microdermabrasion?
Microdermabrasion is an excellent treatment to add to your beauty or aesthetic business due to the affordability of the treatment and the fact that clients can have it weekly. Microdermabrasion has become an incredibly popular treatment and gets 246,000 google searches each month in the UK alone which shows that the awareness for the treatment really is huge. Yes.
Microdermabrasion vs diamond microdermabrasion
Diamond microdermabrasion is a far more effective treatment than regualar microdermabrasion. Standard microdermabrasion involves the skin being 'sand blasted' with aluminium oxide crystals whereas diamond microdermabrasion uses a wand tip to gently 'polish' the surface of the skin.
With diamond microdermabrasion, you can be more accurate around the mouth and the eyes as there are no stray. Not only is diamond microdermabrasion more beneficial for the customer, but it also reduces the daily maintenance needed to be done on the regular machines due to messy crystals.
Shop Now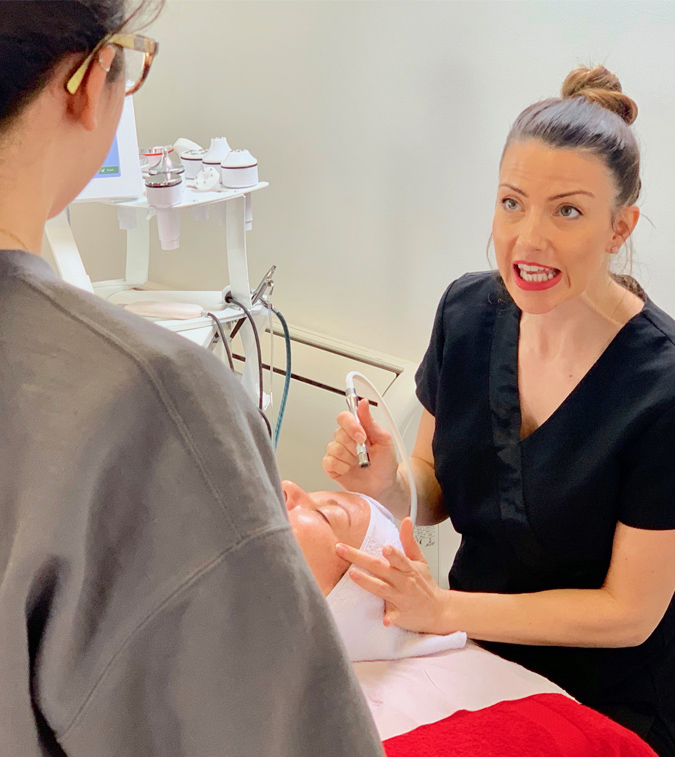 What does Microdermabrasion treat?
Microdermabrasion is fantastic as a treatment due to the regularity in which it can be used to treat clients. This is because it's not invasive at all.
Microdermabrasion is best used as a skin rejuvenation treatment and is often best used alongside other skin treatments such as microneedling and skin peels. Although it can aid
Although microdermabrasion can treat skin concerns such as acne scarring and stretch marks, its best combined with microneedling or skin peels for optimal results.
Microdermabrasion can be used in the treatment of –
fine lines and wrinkles
increasing collagen production
skin rejuvenation
pigmentation
age spots
sun damage
stretch marks
acne scarring
How much can I expect to charge?
Microdermabrasion typically sells for anywhere from £40-75 per session, depending on varying factors such as how established you are to the local demographic.
Also, depending upon your sales ability, there is the option to make additional sales by 'cross selling' with other treatments that work incredibly well with microdermbrasion such as mesotherapy. Also, take home products will also give your revenue an all-important boost, whilst continually improving the results you get for your clients.
Shop Now